Safe Digging| previous page
---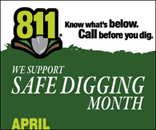 The South Dakota Public Utilities Commission and the South Dakota One Call Board recognize April as National Safe Digging Month and encourage South Dakotans to call 811 before beginning any digging project.
About 811
One easy phone call to 811 quickly and easily begins the process of getting underground utility lines marked. South Dakota One Call Center personnel will then notify affected utility companies, who will mark underground utility lines for free.
Calling 811 will help save lives and protect infrastructure. Knowing where underground utility lines are buried before each digging project begins helps protect you from injury, expense and penalties. The depth of utility lines varies and there may be multiple utility lines in the same area. Even simply digging projects can damage utility lines and can disrupt vital services to an entire neighborhood, harm diggers and potentially result in expensive fines and repair costs. Marked lines show diggers the approximate location of underground lines and help prevent undesired consequences.
About Safe Digging Month
Governor Dennis Daugaard has proclaimed April as Safe Digging Month in South Dakota.(10,657 KB)
PUC and South Dakota One Call issue safe digging reminder news release.