Commissioner Hanson| previous page
---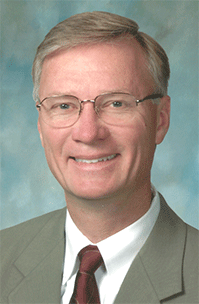 Gary Hanson currently serves as vice chairman of the South Dakota Public Utilities Commission. He was elected to the PUC in 2002 and re-elected in November 2008, November 2014 and November 2020. He served as the commission's chairman in 2005, 2008, 2011, 2013, 2014, 2019 and 2020. Gary represents South Dakota on the National Association of Regulatory Utility Commissioners' Committee on Electricity. He has been the president of the Mid-America Regulatory Conference, represented the nation's NARUC commissioners on the steering committee of the National Wind Coordinating Collaborative and is a member of the Advisory Council for New Mexico State University's Center for Public Utilities. He served on the board of the Organization of MISO States for 20 years, including stints as treasurer and on the executive committee.
Gary has served as chairman of the South Dakota Underground Pipeline Task Force, as member of Gov. Mike Rounds' Task Force on Wind Development, South Dakota's Energy Task Force, and Gov. George S. Mickelson's Cumulative Environmental Evaluation of Black Hills Mining Task Force. His service to the state also includes three terms in the South Dakota Senate where he was chairman of the committees of Bonding and of Government Audit and Operations, and vice chairman of the Taxation Committee.
A native of Sioux Falls, Gary was twice elected as mayor of that city and oversaw multiple departmental operations of more than 1,200 employees. Prior to serving as mayor, Gary was Sioux Falls' utilities commissioner for six years and was responsible for the development and day-to-day activities for three municipal utilities. He owned several businesses before elected office and was a licensed real estate auctioneer, appraiser, and broker.
As a regional and industry leader, Gary is co-founder, past president, chairman, and often referred to as the father of the Lewis and Clark Regional Water System. He was chairman of the South Dakota Public Assurance Alliance, and president of the Sioux Falls Board of Realtors. He has served on the boards of directors of Lutheran Social Services Credit Counseling Advisory Board, DAV Arthur H. Muchow Independent Living Center, Sioux Falls Jaycees, Northern State University Foundation, Minnehaha Metro Communications Systems, South Dakota Water Congress, and Sister Cities Association. Gary was instrumental in the founding of the Multicultural Center in Sioux Falls, the Great Plains Waicipi, Community Drug Concerns Task Force, as well as endowments for the Sioux Falls Pavilion and the Great Plains Zoo.
Awards and honors received by Gary include being named Distinguished Alumnus of Northern State University, Sioux Falls' City Father of the Year, YMCA Tri-State Hall of Fame, International Lions Club Melvin Jones Fellow, Outstanding Young Citizen of South Dakota, Habitat for Humanity's Hat's Off Award, Spirit of Downtown Sioux Falls Award, White Cane Safety Award, Multiple Sclerosis Society Chapter's Mayor of the Year, Children's Care Hospital Wings of Love Award, DAV's Outstanding Legislator Award, and Life Member of Lions Club Sight and Service Foundation.
He has regularly shared his passion for athletics as a volunteer coach for a variety of youth sports. Gary actively pursues a number of interests including astronomy, carpentry, car engines, birding, genealogy, hunting, fishing, skydiving, SCUBA diving, spelunking, camping, history and sports.
Gary and his wife, Sandy, make their home in Sioux Falls and Pierre. The couple has three children and seven grandchildren.
September 2023