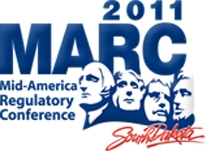 Agenda
MONUMENTAL MARC 2011 was jam-packed with educational and informative sessions, ranging from the latest buzz in electric regulation to what's making a big splash with water utilities. Toss in other topics like telecommunications, natural gas and personal development and you had a winning agenda full of substance and style. Check out the schedule.
Speakers
Experts from various utility industries shared their points of view to give you a better grasp of what's was going on in their world and how it affects yours. See the list of speakers.
Presentations
A good presentation leaves you with food for thought. A great presentation inspires you to action. An outstanding presentation propels you out of your seat with fist-pumping applause. MONUMENTAL MARC 2011 had them all. Browse the summary of presentations.
Registants
MONUMENTAL MARC 2011 list of registrants.